Notable Projects Completed by Civtech
National Institutes of Health - Shuttle Loop Drive
Design & Stormwater Management

To enhance perimeter security at the NIH Campus in the Bethesda, MD, the NIH implemented a campus wide Perimeter Security Project. As part of that project Civtech Designs, Inc.(CDI), provided civil engineering and surveying services for the main entrance at South Drive off of MD Route 355 (Rockville Pike). CDI prepared site, grading, erosion and sediment control (ESC), water and sewer design, stormwater management and retaining wall structure design services.

The project included the construction of a Shuttle Bus Loop and a Visitor's Center which required substantial excavation into an existing knoll which necessitated the building an 18 feet high cantilevered/reinforced concrete retaining wall structure, and two stormwater management bioretention ponds to address the MDE Stormwater Management Regulations. The Shuttle Loop project resulted in a net increase of approximately 0.37 Acres of impervious area to the campus. Since the project was located directly across from an existing SWM pond, CDI was able to simply analyze the existing pond facility to determine that is had the capacity to meet quantity control requirements for the 2 yr., 10 yr., and 100 yr. storms. We proposed the use to two (2) bioretention ponds to meet the channel protection volume and groundwater recharge requirements. MDE accepted this approach, and CDI designed and permitted SWM and Erosion and Sediment Control Plans for the project on budget and on schedule.

Included in CDI's design package were drainage area maps, a hydrologic and hydraulic head analysis of an 36" culvert that ran through the middle of the site, and profiles and plans for all storm drain pipes and inlets. CDI also provided vertical profiles and cross-sections for the varying height retaining wall system. CDI provide project specifications and cut-sheet for the 100% design and CD packages.

Post-construction administration and review services for the project were provided by CDI which resulted in significant project savings and time for project completion for the NIH.

Estimated Cost: $ 3 M

---
---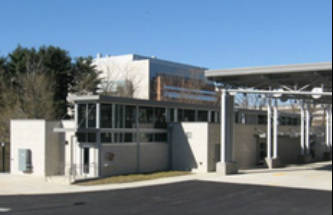 National Institutes of Health - Commercial Vehicle
Inspection Facility (CVIF)


Civtech Designs, Inc provided surveying, civil engineering, landscape architecture, and forest conservation services to design and build the Commericial Vehicle Inspection (CVI) facility at the National Institutes of Health in Bethesda Maryland. The Commercial Vehicle Inspections (CVI) Facility included the construction of a CVI support building of approximately 7,200 s.f., six (6) inspection lanes located under a canopy, a system of asphalt and concrete pavement drive isles, and a new large truck entrance off of MD 355 (Rockville Pike). To eliminate bomb threats from large commercial vehicles, the CVI was designed to screen large trucks and delivery vehicles with in-house inspection personnel and sniffing dogs. The CVIF included a vehicle x-ray machine, and a concrete pit for the inspection of the underside of large commercial vehicles.

Civtech provided design services for a concrete bridge which acts as a single choke-down point for large trucks entering the campus. The bridge was a CONSPAN bottomless arch bridge that fit nicely into the historic view shed and received immediate acceptance by the Maryland Historic Trust.

Civtech was responsible for the site, grading, erosion and sediment control plans as well as the expedited approval of the stormwater management plans through the Maryland Department of the Environment. Civtech worked with consultant reviewers and processed a permit with MDE that essentially allowed the development of the site with a minimal amount of Stormwater Management. By analyzing an existing SWM pond facility to confirm that it had the hydraulic capacity to manage the 10 and 100 year storms, Civtech was able to get a waiver from building another SWM pond facility. In addition, Civtech was able to request to propose the removal of 0.29 acres of impervious area which was used to meet the MDE water quality requirements, and justified a waiver from providing the Channel Protection Volume requires based on the site's close proximity to a full-flowing stream. These efforts resulted in significant savings to the NIH.

Civtech received approval of the SWM and Erosion and Sediment Control Plans and obtained the MDE permit on within the required project schedule.

Estimated Cost: $ 8 M

---
---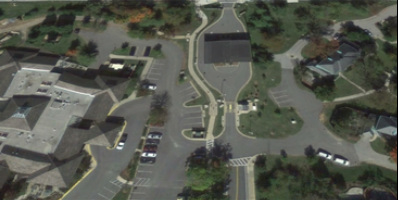 National Institutes of Health
West Drive Patients Entrance

Civtech Designs, Inc. (CDI) provided surveying, civil engineering and post design/construction administration services for the West Drive Patients Entrance at the National Institute's of Health. The design scope for this project included widening the existing West Drive to provide a patients processing building and to add an additional drive lane for inbound traffic and a 750 s.f. guard house that was to manned 24 hours/day, seven day per week. The project increased the site impervious area by 15% for a total of 29,430 S.F. which inevitably triggered the requirement to provide stormwater quality management in accordance with MDE standards.

This project presented some unique challenges because of the existing grades and due to extensive underground utilities in the area. Best management practices for addressing stormwater management could not be utilized because steep slopes and an over abundance of underground utilities within the project area. CDI examined the use non-structural practices for SWM such as water quality swales but due to steep slopes, this approach was not feasible. Further examination of using infiltration techniques would not work as well due to concentrated utilities in the area, so CDI requested that MDE grant a waiver from SWM for this project, and allow the usage of water quality credits gained from another project on the NIH campus to suffice. MDE quickly granted NIH a waiver of SWM for this project which amounted to substantial savings to the NIH. CDI delivered this project to the NIH on under budget and on-schedule. CDI prepared site, grading, storm drain, and erosion and sediment control design services for West Drive Patient's Entrance Project.

Estimated Project Cost: $1M


---
---
Dower Employment Center - Industrial Storage Yard - Upper Marlboro, MD
This project was for the development of a 3.59 acre raw land site in an industrial subdivision known as the Dower Employment Center. The client is the owner of several industrial storage yard facilities where industrial businesses such as trucking and heavy civil construction companies are able to store equipment for a fee. Civtech Designs, Inc (CDI) provided surveying, civil engineering and landscape architecture services on this project. Our scope included the preparation of site development plans, grading plans, sediment and erosion control plan, site lighting plans, and storm drain and stormwater management plans. CDI prepared digitial terrain models of the existing and proposed grades and provided the client with a balanced site with regard to cut and fill of soils.

The project is categorized as a "hotspot" in accordance with the State of Maryland's Stormwater Management Regulations. As such CDI could not use conventional infiltration measures to meet the strict water quality requirements for stormwater management. Site drainage flows into two (2) existing SWM Ponds. CDI analyzed the existing ponds and determined that there was no need for Channel Protection (Cpv) Storage Volumes or Flood-Protection (Fp) however, on-site water quality was required. CDI designed three (3) on-site stormwater filtering devices to meet the pollution removal requirements for TSS and PCPs in accordance with the State of Maryland's 2000 SWM Design Manual. For long term maintenance of the facility, CDI also prepared a Pollution Prevention and BMP maintenance Plan prior to issuance of permits.

The outfall for the SWM device was a single 36" storm drain pipe that could not carry 10 year storm as required. CDI performed a hydraulic gradient analysis of the storm drain system and determined that the 36" outfall pipe would need to be adjusted in order to meet regulatory requirements.

This project was delivered to the client on-time and under the design budget.

Est. Project Cost: $1M


---
CSX Rail - Engineer's Quarters - Bayview Yard - Baltimore, MD
Civtech Designs, Inc. (CDI) provided surveying and civil engineering services for the construction of a 3,500 s.f. office building and an associated parking lot located at the CSX Rail Yard in Baltimore City, MD. The site is located on the south side of Pulaski Highway in a CSX Railroad right-of-way approximately 3,000 feet south west of the intersection of Erdman Avenue and Pulaski Highway.

The site is part of a contiguous system of right-of-ways owned and operated by the CSX rail freight company with an area of development consisting of approximately 0.85 acres of gravel covered ground with slopes ranging from 40% down to 2%.

The site is located within a 3.48 acre watershed and the primary outfall for the site are two (2) existing sump inlets located near the center of the project area. The two sump inlets discharged into an existing 30" concrete storm drain outfall pipe which was more than 20' below grade. Stormwater management requirements for this site included storage of the water quality volume (WQv), and peak attenuation for the 1 year, 10 year, and 100 year storms. To meet those requirements, Civtech designed a pocket sand filter to address the water quality volume and a perforated corrugated metal underground stormwater management detention system to manage the 1 yr., 10 yr., and 100 yr. runoff.

The design of the pocket sand filter system closely followed the latest edition of the 2000 Maryland Stormwater Design Manual –Volumes I & which also included specifications for sequence of construction in preparing the erosion and sediment control plans. CDI prepared details, profiles, cross-section, etc., of the stormwater management facility, which also included an uplift analysis and anti-flotation design due to relatively high groundwater table. CDI also provided grading, erosion & sediment control plans which included cut/fill balance computations and best management practices for the control of sediment laden water into a single 30 inch outfall on the site. Water and sewer plans which included plan views, profiles, and specifications were prepared and approved by the City of Baltimore.

CDI rescued this project from a defaulting design build company and turned it around to meet CSX's goals of providing a quality work place for its employees. This project was completed by CDI on budget and on schedule.

Est. Project Cost: $2M

---
Riverside Baptist Church - Family Worship Center - Fort Washington, MD
The Riverside Baptist Church is located approximately 1100 feet north of the intersection of Fort Foote and Oxon Hill Roads. The project consisted of a 7,440 sq. ft. church banquet hall addition (The Family and Worship Center) and 25,230 s.f. of additional asphalt parking for 48 new parking spaces and drive aisles. The site was heavily wooded in the rear with slopes running as steep as 10%.

Civtech Designs, Inc.(CDI) designed a subsurface infiltration/extended detention facility to meet the water quality volume (WQv) requirements of the State of Maryland 2000 Stormwater Management Design Manual. The facility comprised 48 inch diameter perforated storage pipes with clean stone backfill to store the channel protection volume (CPv). CDI provided pretreatment for water quality runoff via water quality grass swales along the perimeter of the parking lot. A 48" diameter perforated pipe with stone backfill was designed to store approximately 4,200 c.f. of CPv storage. The outfall of the facility was hydraulically configured to provide 24-hour extended detention for the CPv. CDI conducted pre-development/post-development drainage study and proved that the 2 yr., 10 yr., and 100 yr. storm discharges were all below the 10% increase for the Prince George's County, and therefore no quantity management was required for this project.

CDI provided boundary/topographic and construction stakeout surveying for this project. Additional services also included detailed site plans, zoning board approvals for additional uses (i.e., daycare center and pre-school), parking lot and paving design, and water and sewer design, landscape architecture services, and tree conservation plans..

This project was delivered to the client on-time and under the design budget.


Est. Project Cost: $1.5M

---
Family Dollar Store - Greensboro, MD
Civtech Designs, Inc. (CDI) provide site planning, civil/environmental and surveying services for a new Famil Dollar Store located in Greensboro, MD. The project consisted of the development of Parcels 77 and 78 (also known as 13199 Greensboro Road) located on the east side of MD- Route 313 immediately south of the Town of Greensboro. Construction included a 100'x 80' steel building, a 10,000 s.f. asphalt pavement parking lot, and an infiltration basin to manage storm water runoff.

The development of this site resulted in a 65% increase in impervious surface. To address the Environmental Site Design (ESD) to the Maximum Extent Practicable (MEP) CDI designed a 0.251 ac-ft. infiltration basin to capture and infiltrate the water quality volume (WQv), and the flood protection (Qp) components. The infiltration pond was designed to discharge the 2yr. post development runoff by 60% of the existing runoff. The 10 yr. post development discharge from the pond was 52% less than the pre-development discharge rate.

As this project is located in the Chesapeake Bay 1000' critical area buffer zone, it required the granting of growth allocation by the Chesapeak Bay Critical Area Commission (CAC). CDI provided environmental consulting services and performed site engineering and design to meet the 10% phosphorous reduction rule as presented in the Maryland Chesapeake and Atlantic Coastal Bays Critical Area 10% Rule Guidance Manual –Fall 2000. Water quality swales with check dams were used to meet the 10% phosphorous reduction requirement. During the design approval process, CDI processed the annexation of the site into the Town of Greensboro so that is could have access to the town's public water and sewer system.

Through many public hearings and persisteny professional services with the local town of Greensboro, as well as Caroline County public officials, CDI was successful at bring the Greensboro Family Dollar project from design to reality. CDI provided boundary/topographical surveying services as well as site,grading,storm drainage, and sediment control design for the project.

Est. Project Cost: $1.25 M